absoluteBLACK Premium Shimano 110/4 BCD compatible ROUND chainrings are designed for new and old type of Shimano cranks like Dura-Ace 9100, 9000, Ultegra 8000, 6800 & 105 R7000 and more. These are finest round aftermarket chainrings in terms of shifting, stiffness and manufacturing quality. 10/11/12spd compatible. Made in EU
Important:
Ramps on big rings are specially configured for combinations: 50/34, 52/36, 52/38, 53/39T
If you wish to use other configuration it will also work, but shifting will be slower and may require more "adjustments" of front dérailleur to be acceptable. Also remember that front dérailleur can only accept max 16T difference between 2 chainrings - this is how Shimano and Sram designed them.
Absolute Black always recommends using a new chain when fitting new chainrings.
Advantages of Absolute Black Road Round Chainrings:
One of a kind look
Super stiff design due to thicker, 5mm construction
Bespoke Absolute Black 4 / 6 point ramp and recess shifting design shifts as crisp as original
Finest design that provides excellent strength to weight ratio
How to mount 110/4 Absolute Black Round Chainrings:
First, you need to remove your crank from your bike. Once removed, unscrew the 4 bolts that hold two chainrings together with a T-30 torx key. Remove both original rings. Locate the new inner chainring with the triangular timing indicator positioned behind crank arm. The bolt holes on the small chainring are recessed – so the nut heads will sit flush with the surface of the chainring - these recesses should face you when mounting the bolts. Absolute Black outer chainring has a specific shape of mounting tabs so it will only fit one way on the new version of cranks arms (for older cranks locate the recess on the chainring behind the crank arm).
If you are only changing the inner chainring - use the original bolts that came with your crank. If you are replacing a pair of rings, you will need a set of regular 'double' chainring bolts or our set of Bolt covers (buy bolt covers that are right for your crank model). Tighten all four bolts with force of about 5-7Nm. Mount your crank back to the bike. If you were changing outer ring size - you need to also adjust front dérailleur.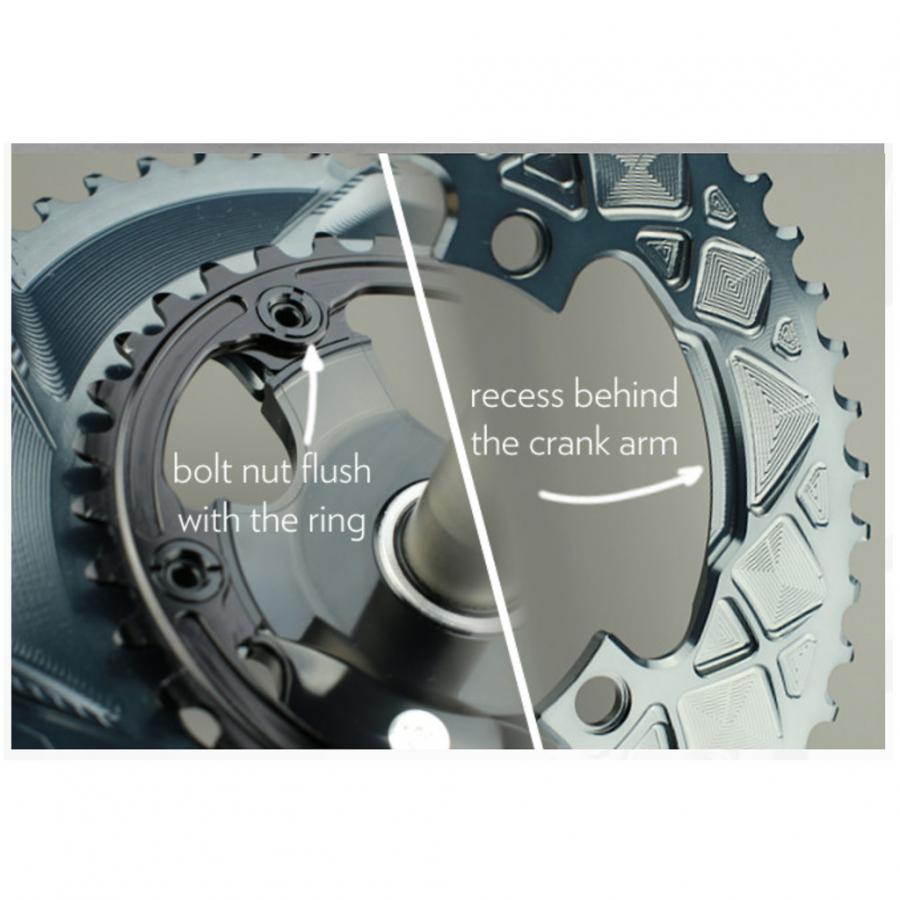 WORLD'S BEST OVAL CHAINRINGS THAT HELP YOU INCREASE YOUR PERFORMANCE BY UP TO 9%*
absoluteBLACK is the largest mountain bike oval chainring manufacturer in the World with years of expertise in this field. We produce the highest quality, beautifully designed and engineered oval chainrings on the market with impeccable attention to detail.
Our studies led by the University of Primorska, Slovenia show significant differences when using absoluteBLACK Oval chainrings compared to round. Up to 9% increase of Force effectiveness, up to 7% less oxygen consumption, up to 15% less Ventilation (breathing) and up to 10% heart rate decrease when using oval chainrings versus round. What does that mean? In short, it means that you will consume less energy at the same power output using Oval chainrings so you can ride for longer and/or faster.
Why AbsoluteBLACK oval chainrings work?
AbsoluteBLACK oval chainrings deliver power more smoothly to your rear wheel. You will actually feel your pedal stroke to be more "round" with an Oval chainring than with a round chainring. This means you are better able to generate and maintain constant cadence. Because oval chainrings reduce the peak loads on knee joints.