AERODYNAMICS REDEFINED
The ABUS GameChanger is the ultimate helmet for professional bike racing - developed together with the Movistar team.

The GameChanger sets new standards. What is a cyclist's biggest enemy? Air resistance.
Every cyclist knows that battling against the wind is one of the toughest challenges they face. With its Multi Position Design, the GameChanger redefines aerodynamics. The special shape reduces windage by minimising exposed surfaces, regardless of weather conditions, head-tilt position and inflow angle. Our innovative Forced Air Cooling Technology sucks in incoming air and channels airflow around the head, creating a perfect climate and keeping your head cool even in hot races.
The wind as a designer
The unique flow shapes of the ABUS GameChanger are created by a team of engineers, designers and riders. Together against the natural enemy of the racer - headwind.

Pure aerodynamics - when it comes to the battle for seconds for the decisive watts, there is no way around the ABUS GameChanger. Its streamlined design speaks a clear language. Change the Game - ABUS GameChanger.
Technologies:
Multi Position Design: For optimal aerodynamics regardless of head tilt
Forced Air Cooling Technology: Sophisticated ventilation system for an optimal head climate
FlowStraps: Aerodynamic, flutter-free and skin-friendly thanks to specially developed strap profile
Zoom Ace: Finely adjustable adjustment system with handy adjustment wheel for customisable fit
AirPort: Aerodynamic glasses holder with strap guide
Multi Shell In Mold: For safe shock absorption
Ponytail compatibility: Helmet well suited to plait wearers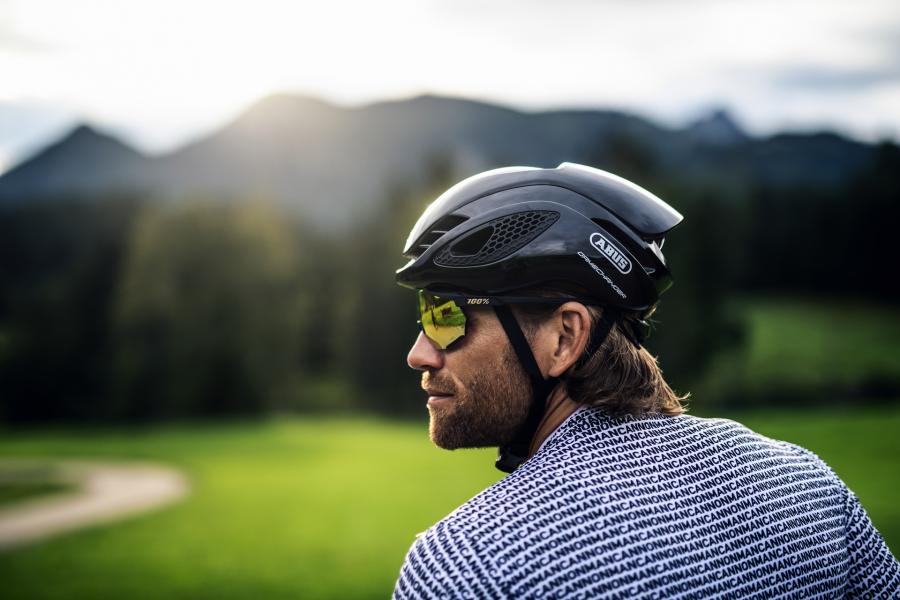 ABUS – Bicycle Locks & Helmets Designed by Security Experts
For almost a century, the German founded ABUS company has been manufacturing secure locks. Meanwhile, the ABUS Security product range also includes uncompromising protection for bicycles and their riders. Against bicycle thefts you have the choice between high-quality folding, chain, frame or u-locks. But protecting your head, whether during sports or in everyday life, is also important to ABUS. All of their helmets, whether for mountain biking, road cycling, e-biking, commuting or for children, stand out due to their top materials, high-quality manufacturing and attractive designs.
From helmets for babies and children, through city helmets for shopping or commuting, to high-end sports helmets: ABUS offers helmets with good ventilation, great comfort and individual adjustment to fit your head.
World of Wheelz (WOW) is the official distributor for ABUS products in India.